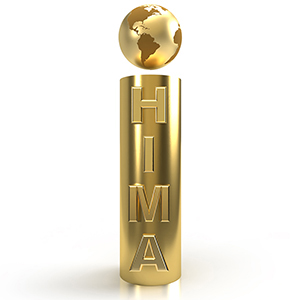 Congratulations to HIMA nominees so far! These early selections are just a small sample of early nominations. Final nomination selections will be posted in June, including those who are still under review. Submit your music to be considered for this year's awards happening August 17th at the Avalon Hollywood.
MUSIC SUBMISSION DEADLINE IS JUNE 1, 2023.
Custom design nomination wall plaques are now available!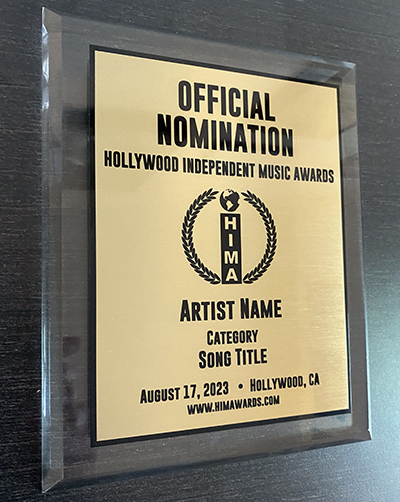 2023 HIMA NOMINATIONS
| ARTIST NAME | SONG TITLE | CATEGORY | CITY | COUNTRY |
| --- | --- | --- | --- | --- |
| Hooked Like Helen | "Streamers & Balloons" | Adult Contemporary | Milan | United States |
| Savannah Brister | "Feelings" | Adult Contemporary | Memphis | United States |
| Mt Boi | "4 You" | Afrobeat/Afropop | Lagos | Nigeria |
| JVMIE & Lionel Cohen | "You Can Run, But You Can't Hide" | Alternative | Los Angeles | United States |
| Tia McGraff | "With Love" | Americana/Roots | Apollo | United States |
| Terry Blade | "Won't Be Around" | Americana/Roots | Chicago | United States |
| Soulgrass/Debra Lyn | "If I Never Wake Up Again / Twist The Knife" | Bluegrass | Mt. Juliet | United States |
| Tommy Stillwell | "A Light in the Distance" | Blues | Owensboro | United States |
| JVT Band (ft. Tommy Stillwell) | "Blue Moon Shines" | Blues | Owensboro | United States |
| Paper Rainbows | "Imaginations" | Children's Music | Los Angeles | United States |
| Steve Bridgmon | "Between Sundays" | Christian/Gospel | Owensboro | United States |
| Kitt Wakeley | "The Storm" | Contemporary Classical | Edmond | United States |
| Fabian Kratzer | "In Between - 1st Movement" | Contemporary Classical | Nuremberg | Germany |
| Richard Lynch | "Radio Friend" | Country (Classic) | Apollo | United States |
| Dimitris Nezis & Stacey Jackson | "Viral" | Dance | Athens | Greece |
| Philippe Funk (ft. Liz Kretschmer) | "Love's Worst Nightmare" | EDM (Electronic Dance Music) | Luxemburg | Luxembourg |
| Grant Maloy Smith | "Joy To The World" | Holiday | Wakefield | United States |
| Guy Renardeau | "Snow White" | Instrumental | Saint Yrieix La Perche | France |
| Vahagn Stepanyan | "Motion" | Jazz (Fusion/Bebop) | Glendale | United States |
| Pia Vasquez | "Ahora Lloras" | Latin Pop/Rock | Wilton | United States |
| Herman Rodriguez | "Mírame A Los Ojos" | Latin Traditional | Sherwood Forest | United States |
| Gato Blanco | "Fora Do Saco" | Latin Tropical | Los Angeles | United States |
| Caitlin Kilgore | "Fury and Fire" | Lyrics/Lyricist | Santa Monica | United States |
| Graham Czach | "One Human" | Message/Social Impact Song | Los Angeles | United States |
| Jacquie Joy | "You'll Feel Nothing" | Mixing/Engineering | Brisbane | Australia |
| Robert Ferti | "Keep It Simple" | Mixing/Engineering | Munich | Germany |
| Cali Wang | "The City, The Comet, The Whales" | New Age/Ambient | Los Angeles | United States |
| David Deutsch | "Iceland" | New Age/Ambient | Burbank | United States |
| GEM Rpm | "Ruins" | Pop | Los Angeles | United States |
| Kristina Murrell | "So Good" | R&B/Soul | Reidsville | United States |
| Ushuaia & The Wanderlust Orchestra | "Somewhere in Lapa" | Rap/Hip Hop | Milan | Italy |
| Mc Norman | "Loliwe" | Reggae | Johannesburg | South Africa |
| Happy To Be Here | "Me Now" | Rock | Sunland | United States |
| Kick The Wicked | "Spit it Out" | Rock/Heavy Metal | Springdale | United States |
| Circle the Earth | "Too Many Pieces" | Rock/Pop | Sunland | United States |
| Nate Highfield | "When The Storm Calms" | Singer-Songwriter | Los Angeles | United States |
| Spenser Hyun, Robin Sandoval | "Still Be Here" | Singer-Songwriter | Canyon Country | United States |
| Ella Roberts | "The Woodland Folk" | Vocal (Female) | Queensland | Australia |
| Shylah Ray Sunshine | "So Far" | Vocal (Female) | Santa Paula | United States |
| Matt B | "I'm Here With You" | Vocal (Male) | Santa Clarita | United States |
| Shumile Exotic Dimensions | "Desert Heat" | World | Watertown | United States |
| Masa Takumi | "Sakura" | World | Meguro-ku | Japan |
| Melissa Pettignano | "Dear Lord Jesus" | Christian/Gospel | Secaucus | United States |
| Danaë Xanthe Vlasse | "Nocturne Pour Audrey" | Contemporary Classical | Winnetka | United States |
| Clayton Q | "Welcome to Nashville" | Country (Classic) | Nashville | United States |
| Girlie Vasallo (ft. Faith Ignacio) | "Come Home" | Holiday | New Westminster | Canada |
| Joseph Lu | "Night in the Sky" | Instrumental | Modica | Italy |
| OVISION | "5D" | Jazz (Fusion/Bebop) | Greensboro | United States |
| Lindsey Webster | "I Didn't Mean It" | Jazz (Smooth/Cool) | Los Angeles | United States |
| ThreeStyle | "Time to Shine" | Jazz (Smooth/Cool) | Munich | Germany |
| Dominique Patrick Noel (ft. D' William) | "Mi Secreto" | Latin Tropical | Gaithersburg | United States |
| Chesney Claire | "The Problem" | Pop | Las Vegas | United States |
| Super Fëmmes | "Guilty Pleasure" | Pop | Stockholm | Sweden |
| Enoka | "Do It All 4 Me" | R&B/Soul | Malmö | Sweden |
| Ashton Martin x 1DRU | "Limited Resources" | Rap/Hip Hop | Atlanta | United States |
| Happy To Be Here | "Me Now" | Rock | Sunland | United States |
| Live in Color | "A Better Me" | Rock/Pop | Jonkoping | Sweden |
| Mohammadreza Ajdari | "Autumn Girl" | World | Tehran | Iran |
| Signal for Pilot | "Upload" | Alternative | Carlsbad | United States |
| Under The Rug | "Lonesome and Mad" | Alternative | Ruidoso | United States |
| Dana | "I Am Brave" | Children's Music | Blaine | United States |
| Damien Horne | "The Good Good LIfe" | Country (Crossover) | Madison | United States |
| Guthorm | "Moon" | Downbeat/Downtempo | Torino | Italy |
| Nikkole and Liam Keegan | "Never Give Up" | EDM (Electronic Dance Music) | Los Angeles | United States |
| Eduardo Padua & Dominique Patrick Noel | "Union DC" | Latin Tropical | Gaithersburg | United States |
| Katie Hardyman & Mick Evans | "Always by Your Side" | Message Song/Social Impact | Sydney | Australia |
| Craig Padilla and Marvin Allen | "Sunflowers in the Wind" | New Age/Ambient | Cottonwood | United States |
| Jordyn Simone | "Hold Me" | R&B/Soul | Los Angeles | United States |
| Dan Acosta & Axis Unknown | "2 Hell & Back Again" | Rock/Heavy Metal | Myrtle Beach | United States |
| Carlos Garo | "Karma" | World | Toledo | Spain |
| Baba Kuboye | "Ikoyi Boy" | Afrobeats/Afropop | Frisco | United States |
| Presley Aronson | "Live Like Paradise" | Country (Crossover) | Los Angeles | United States |
| Taylor Sanders | "Firecracker" | Country (Crossover) | Nashville | United States |
| Alexa Lace | "Santa's Bringing You" | Holiday | Stockholm | Sweden |
| Paul W. Rucker | "Leprechaun Free Dance" | Jazz (Fusion/Bebop) | Old Hickory | United States |
| Suzanne Grzanna | "Midnight Blues" | Jazz (Smooth/Cool) | Milwaukee | United States |
| Alexa Lace | "Tenía Que Ser Yo" | Latin Pop/Rock | Stockholm | Sweden |
| Pacho Buscadoro | "Repetirlo" | Latin Urban/Hip Hop/Rap | Strasbourg | France |
| Baby Gold | "Precautionary Measures" | Original Song (all genres) | Aventura | United States |
| Plastic Rhino | "Another Try" | Rock/Heavy Metal | North Hollywood | United States |
| Sierra Miles | "Grandmother's Pearls" | Singer-Songwriter | Medford Lakes | United States |